[


« La certification qualité a été délivrée au titre de la catégorie d'action suivante :
ACTIONS DE FORMATION »
              Since 2020, 100% of our trainees would recommend our trainings to their colleagues.          
 &
In 2022, 100% of our trainees considered that our trainings were useful to their work.
Our commitment
Principia delivers open and in-company training courses to offshore oil & gas, naval industry and renewable energy professionals. Our training capabilities in these areas are based on over 20 years of experience in engineering and research & development, working closely with companies, contractors, consultancies and universities.
We are committed to developing the practical skills of individuals and giving the best training experience possible as we believe that applicable knowledge is among the key factors required to face the current industry slowdown and help you succeed.
Training of engineering teams is an integral part of our capabilities. We can offer cost-effective training solutions and ensure consistent learning across all participants in your company.
Our training courses portfolio comprises both Engineering and Software courses that are all designed to meet the requirements of multiple audiences. In addition to the courses included in our portfolio, we can provide customized courses tailored to your learning expectations, to be arranged at your preferred location and time.
All instructor-led courses are provided either by in-house experienced instructors or collaboratively with expert partners who share common enthusiasm for knowledge transmission.
Delivering practical knowledge to your people:
We deliver practical knowledge that can be immediately applied to your projects. Our engineering courses comprise design exercises and case studies extracted from the real-world, which allows delegates to apply the knowledge that they have gained. We consider practice and self-correction as essential parts of our teaching approach.
Training of teams & individuals:
Arranging a class to train multiple staff members together can be the most cost-effective way to prepare for a new project or technology migration. We can send an instructor to your facility, or you can hold a class at one of our facilities. On the other hand, attending any of our open courses is generally the ideal solution for individuals.
In-company courses & open courses:
We deliver both in-company courses and public courses open to multiple companies. In-company courses may be scheduled at your convenience and run at your business premises or at a local venue if you prefer it off-site.  Open courses are regularly scheduled at our facilities and announced on our website.
Tailored courses:
Our training course modules cover a range of engineering topics related to subsea, offshore structures and renewables. In the event that these modules do not perfectly fit your requirements, we can assist by assessing your training needs and then setting up a tailored course program. Tailored courses that are fully based on existing material extracted from our courses catalogue are provided at no extra-cost.
3 levels designed for multiple audiences:
Our training courses are designed for multiple audiences and are characterized by three levels. The introductory level provides general awareness and is ideal for individuals wishing to discover the course topic.  The intermediate level provides technical details along with practical exercises and is ideal for engineers wishing to learn foundation skills. The advanced level provides comprehensive technical details along with practical exercises and is ideal for engineers with a pre-existing background on the course topic.

Our instructors:
Our in-house instructors are all practicing engineers with extensive experience in their fields of activity and a strong awareness of current industry practices. This ensures that a sound level of technical knowledge is provided to your delegates and that they are able to have their queries properly addressed.
Our software course instructors are members of the software development team who have mastered the capabilities of the software they teach. They are also in charge of running internal training for our engineers and are accustomed to helping them in getting the most out the software.
Open courses training facilities:
Open courses that are held directly at our premises are run in dedicated classrooms that are equipped with all necessary material (PC, video system) to ensure the best learning experience.
Training passports:
Training passports enable you to purchase a set number of training days in advance and receive discounts over the standard prices – when booking training courses individually. Both 5-day and 10-day passports may be purchased.
Passports are valid for 12 months from the date of purchase and may be used for any of our training courses.
What does the training price include?
The price of our open course is based on the number of training days per delegates. The price of our in-company course includes tuition fees, training material, as well as travel and living expenses for the trainer.
TRAINING COURSES         
Our training courses comprise engineering, software courses and hands-on workshops to answer the demands of subsea, oil and gas and renewables professionals. The software training courses allow delegates to obtain hands-on experience for all of the engineering topics included in the engineering training courses.
Engineering courses:
The engineering training courses provide an overview of the topic along with technical details, design methods and current industry practices. These courses may be conveniently combined with our software courses to gain practical experience and maximize knowledge retention.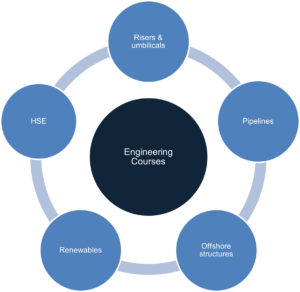 Software courses & hands-on workshops:
The software training courses aim at getting delegates proficient in the use of our design software. The design areas that we cover include risers, cables, pipelines with DeepLines™, hydrodynamics and seakeeping with Diodore™ and offshore structures with Isymost & NSO™.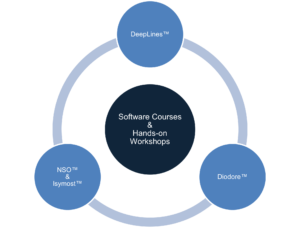 PRINCIPIA_Training_Programs_2023[/vc_column_text][/vc_column][/vc_row]