DTA m Software
PRATICAL, FIELD PROVEN AND COST EFFECTIVE MONITORING STRATEGY
GENERAL
Developed jointly with PHIMECA and distributed by PRINCIPIA, Digital Twin for Availability (DTA) monitoring Software allows for the follow up in operation of marine structures.
DTA m combines an optimized number of on-board measurements and structural digital twin to form state of the art structural health monitoring software, supplying automatically and in real time ready for use information for development of condition based predictive maintenance strategy.
By so doing, DTA m helps you to ensure availability, lifetime and safety for all naval & offshore assets operations (floating wind turbines, vessels, O&G production platform & structure, risers & mooring, etc.) and provides clear indicators for lifetime extension.
DTA M SOFTWARE VERSUS CONVENTIONAL MONITORING STRATEGY :
Practical Solution, developed as per Key Operators Specifications
Field Proven:

Already deployed for Oil & Gas Offshore Assets
Already validated against in situ data

Limited CAPEX :

Limited number of sensors required
All sensors positioned above sea level
No need for in situ recording of environmental data
Not impacting offshore asset procurement and installation operations

Optimized OPEX :

Automatic data processing over the entire service life
Optimal data management: Limited transfer or storage of data;
Condition based predictive maintenance to limit O&M cost
Facilitate offshore asset life extension
REFERENCES FOR OIL & GAS PROJECTS :
PRINCIPIA has already successfully delivered this monitoring Software for Offshore Projects (e.g. AKPO, JUBILEE etc…) for key stakeholders of the Oil & Gas industry.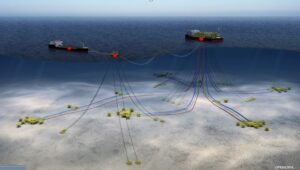 REFERENCES FOR OFFSHORE WIND PROJECTS
PRINCIPIA and PHIMECA were awarded in December 2020, a +1MEuros regional European funding (FEDER) to adapt its DTA m Software to the floating wind industry.
This project is supported by EDF Renewable and Enbridge who are currently developing the Provence Grand Large (PGL) project, a 25MW Floating Wind Pilot Park to be deployed in the French part of the Mediterranean Sea.
Ultimate objective of this FEDER Project is to plug this DTA m Software into the SCADA system of the PGL Project in order to follow up automatically and in real time, structural integrity of the following floating foundation key components:
Floating platforms
Mooring lines
Dynamic power cables
This real time and automatic monitoring strategy, based on state of the art combined digital twin and data science technology is offering a unique solution for Operation & Maintenance Strategy of future floating offshore wind commercial farms.